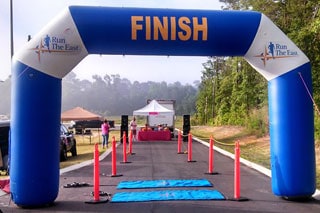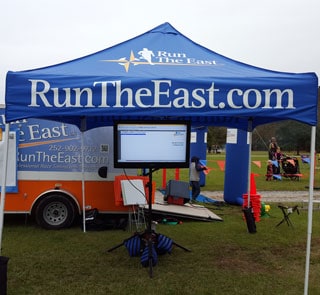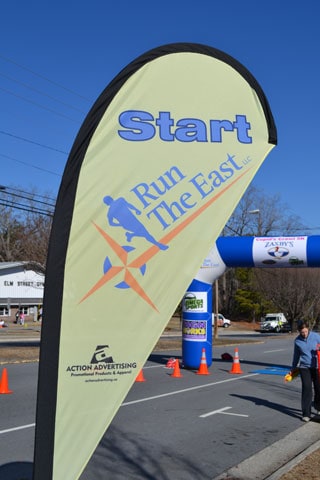 Run the East LLC offers a full range of services to events throughout North Carolina. Our experienced team of professionals have a wealth of experience working with a wide range of events and can help take your event to the next level.
Race Timing
We have been timing races for over 15 years and bring our experience plus reliable and proven RFID technology to every race we time. We offer re-usable chip timing for races on a budget, as well as custom shoe chips and disposable BibTag timing for larger events. We are able to time a wide range of events, including road races, cross country meets, triathlons/multi-sport races, mud runs, color runs, glow runs, and more. Our timing services include:
Promoting your event online to the 10,000+ runners on our e-mail list, 2,000+ Facebook followers and on our web site (over 3,000,000 hits per year)
Providing free generic race bibs, or coordinating the order of custom race bibs
Preparation of race bibs, including assigning/labeling alphabetically for packet pickup
Complete setup and management of online registration
Data entry for race day registrants
Complete finish line setup, including chute and large display clock
Providing awards list and posting results on-site, as well as online
Sending times to runners via e-mail and/or text messaging
We also offer several additional options to give your runners an even better experience. These include:
Inflatable start/finish line arch to enhance the look of your finish line and provide additional opportunity for sponsor recognition
Live results TV with scrolling results, providing instant results to runners
Result kiosks, so runners can instantly locate their individual times
Announcer mat/PC so an announcer can announce runners' names as they finish
Race Management
In addition to timing races, Run the East offers comprehensive, professional event management services. Our team manages several successful races annually and has what it takes to make your next event successful.
Event management services include:
Total event management (turnkey events)
Course design & measurement
Marketing (web site design, social media marketing, entry form design/printing)
Volunteer management
Permitting
Coordination with local authorities
Vendor recommendations
Budgeting
Emergency planning
Packet pickup